An Intercom System will literally improve your life dramatically in terms of security, comfort, convenience and technological upgrade. We want the best for our clients and that's why "Gate Repair Woodland Hills" has expert crews for intercom services. We manage to cover your intercom repair and installation needs fast because we work with the best industries, which manufacture these systems, who are organized and experts!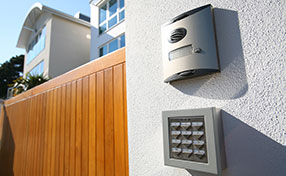 We always find the best way to make our customers feel more secure at their homes and provide convenience with intercom installation. What's the point of having the option to choose among such high tech systems and ignore their existence? We are here to tell you all about gate intercom systems and explain why they are important for your security to say the least.
Great services by gate intercom specialists
We provide gate repair for numerous years and understand that gates of all sizes, types and for any use will provide greater security if technological devices are installed. Having a gate opener keypad is excellent since you can have your personal plus temporary codes for other people. This way, you can have easy access! If you combine such systems with intercom, you can easily multiply the level of your security. Intercoms allow you to control the gate from inside your house. You can have two ways voice communication with the visitors and if you want you can deny access. If you want to let them in, you just have to press one button. Why go through the trouble of going to open the gate yourself?
If you want experts for intercom phone enter system services, you just have to contact our company. You will find exceptional professionals at Gate Repair Woodland Hills who have expertise, knowledge and knowhow. We make sure the Intercom System is properly and accurately installed; we program it and tell you how it works. We make sure our customers are happy and, above all, secure. Hence, you can expect our full assistance, especially if you have problems and need repairs. Email us today with your questions or call to make an appointment!